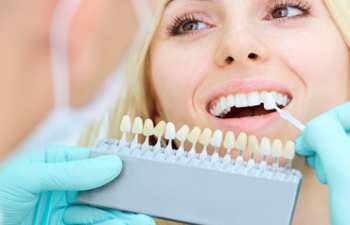 Few of us were born with a perfect smile. Nonetheless, pretty smiles are definitely desirable. A straight, white and balanced smile can make you more attractive, help you look younger and even improve your chances of succeeding in your career. Best of all, a beautiful smile improves self-confidence! Thanks to modern cosmetic dentistry, there's an easy and effective solution to erase your dental flaws and create the smile you've always wanted. If you are dissatisfied with the appearance of your smile, here's what you should know about porcelain veneers.
What Are Cosmetic Dental Veneers?
Veneers are wafer thin shells of porcelain that are bonded to the front surfaces of your teeth. Since they are solely used cosmetically to hide imperfect teeth, they are designed for placement on the teeth that are visible when you smile. Since a tiny portion of your enamel is shaved off during the veneer placement, cosmetic veneers are considered an irreversible treatment – but it's one you won't regret!
The Advantages of Porcelain Veneers
They are Versatile: Veneers can be used to address a wide range of aesthetic dental issues, including teeth that are worn down, uneven, gapped, discolored, chipped or crooked. In fact, if you are considering orthodontics simply to change a few front teeth, you may be eligible for veneers instead.
They Produce Instant Results: If you are used to our culture of instant gratification, you won't be disappointed with veneers. It's a life-changing cosmetic procedure that typically takes just two simple office visits.
They are Customized Just for You: Not only do porcelain veneers look and feel natural, but they can also be tailored to meet your specific needs and goals. Each veneer can be customized in shape, size and color!
They are Stain-Resistant and Durable: Veneers are crafted to last for years to come. They are designed to withstand everyday dental function and are well tolerated by the soft tissues of your mouth. As an added bonus, porcelain veneers are resistant to stains so you won't have to worry about them discoloring over time.
Schedule Your Smile Makeover
Ready to learn if you are a candidate for porcelain veneers? We'd love to transform you smile at Riverwood Dental. You'll be cared for by a talented and caring dentist who is passionate about giving patients a positive and rewarding experience in cosmetic dentistry!