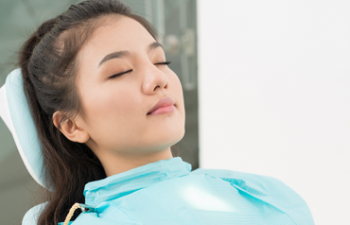 Dental anxiety can range from a simple annoyance to a paralyzing obstacle that keeps you from getting routine dental care. However, one thing is for certain; if you have dental anxiety, you are not alone. According to Colgate, 9% to 15% of Americans avoid seeing the dentist because of anxiety and fear. Dental anxiety can involve many symptoms, including a racing heart, sweaty palms, or even shortness of breath. This anxiety can be triggered when you sit down in the dental chair or just from the thought of going to the dentist. Understanding dental anxiety is important, as it can help you validate your condition and be more open to discussing your concerns with your dentist. Most modern dental offices, such as Riverwood Dental, offer sedation dentistry as an effective means to address your dental anxiety and give you the comfortable, relaxed dental experience you deserve.
Sedation dentistry comes in many forms, depending on the level of anxiety or fear a patient has. At Riverwood Dental, we offer nitrous oxide inhalation (laughing gas) as well as oral sedation (taking a sedative pill before you arrive). In both cases, you'll still be alert and able to communicate with us during your procedure, yet you will be unbothered by the work being done in your mouth and able to remain in a state of deep relaxation.
Patients experience dental anxiety for a variety of reasons, including the following:
Smells of the dentist (latex, etc)
Sounds of the dentist (drills, scraping, etc)
Severe gag reflex
Poor dental experience as a child
Feeling a lack of control
Fear of needles (dental injections)
Sedation dentistry isn't the only way to combat these fears. You may also address your anxiety by bringing headphones to your appointment, asking for a pillow or blanket or distracting yourself with a favorite TV show. At Riverwood Dental, we are happy to provide extra amenities for patients who have trouble getting comfortable in the dental chair. Your oral health is too important to let dental anxiety win.
For more information about sedation dentistry at Riverwood Dental, please give us a call. We will explain your options and walk you through the details of the process.