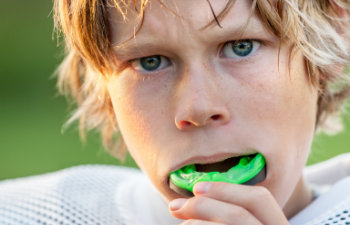 Youth sports are competitive. Regardless of whether your child is playing football, lacrosse or basketball, the games and practices can get intense and physical. Injuries are bound to happen. When a sports injury involves the mouth, however, it can be especially traumatic. At Riverwood Dental, we encourage young and old athletes to wear a custom mouth guard whether they are a weekend warrior or a professional player.
Not all athletic mouth guards are created equal. In fact, there are some vast differences between cheaper "boil and bite" mouth guards you can get at the store and custom mouth guards you can get from your dentist. If you are buying a mouth guard to protect your teeth from costly or irreversible damage, a custom mouth guard is the clear choice.
The Benefits of Custom Vs Store-Bought Models
The quicker and often cheaper way to get a mouth guard for your youth sports player is to go to the local sporting goods store and get a "boil and bite" mouth guard. However, these are limited in how well they fit. When they don't fit, they can't protect. It is common to see athletes taking out their mouth guards when they aren't comfortably fit inside their mouth. It can even be difficult for some to breathe and speak with their store-bought mouth guard.
The most significant advantage of choosing a custom mouth guard from your dentist is the superior fit. Custom mouth guards are fabricated with higher grade materials for better protection, and they are uniquely molded to fit every crevice and groove of your child's teeth and gums. Custom mouth guards meet the FDA criteria for adaptation, retention, comfort and stability of material. They may have a higher upfront price tag, but you should get longer use out of a mouth guard from your dentist.
In addition, a dentist, unlike a sports store retailer, will consider important factors before fitting the mouth guard, such as your child's age, potential of tooth eruption during the season, orthodontic treatment, cavities and missing teeth as well as history of other medical or dental issues that may require additional protection.
Schedule Your Mouth Guard Fitting at Riverwood Dental
Riverwood Dental is proud to offer custom mouth guards to patients who play sports. Our mouth guards can help prevent tooth loss, broken teeth, lip/gum lacerations and even concussions. Call our Cumberland dental office today and schedule your fitting for a custom mouth guard. An investment that protects the future of your child's smile is an investment worth making!