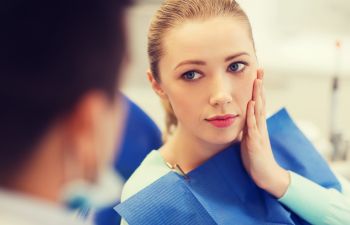 Dental emergencies can be disruptive, frightening and overwhelming. Just like the rest of your body, when an unplanned injury or extreme pain happens inside your mouth, it needs quality attention as soon as possible. A dentist is the best place to go when you or your family member is suffering from a dental emergency. Your urgent concern may require specialized equipment and techniques that only a dentist can provide.
Is it Really a Dental Emergency?
When it comes to dental emergencies, it is common for patients to question whether their pain or problem really requires urgent care. When in doubt, always call your dentist or come to the office to be sure. Neglecting a dental emergency can lead to worsening pain and more costly treatments. In general, if you are in notable pain or have suffered any type of trauma that puts your oral health at risk, you should seek emergency dental treatment. This can include a sports impact, chewing hard food, using teeth as scissors or an oral infection.
What to Do in a Dental Emergency
Calling your emergency dentist is always the first step. However, there are things you can do in the meantime to safely address your dental emergency and foster a more favorable treatment outcome from your dentist.
Here are some specific care instructions for handling dental emergencies at home:
Toothache: Call your dentist the first day you feel pain. To reduce your symptoms until you can be seen. Use over-the-counter pain relievers such as ibuprofen, apply a cold compress and rinse with salt water as needed.
Broken, Chipped or Cracked Tooth: Rinse your mouth with warm water and apply a cold compress to your cheek. Be sure to keep the broken tooth pieces if possible and bring them to your dentist. Be careful not to cut your tongue or lip on a sharp broken tooth.
Knocked Out Tooth: If your tooth gets knocked out completely, clean it with water and avoid holding it by the roots. It may be possible for your dentist to re-implant an avulsed tooth if you keep it moist by storing it in milk or water.
Bitten Lip or Tongue: Rinse your mouth with warm water and apply a cold compress. If bleeding persists or causes discoloration, let your dentist know. If there is substantial bleeding of any kind in the mouth, an ER visit may be warranted.
Preventing Dental Emergencies
Accidents happen, and we know that it is impossible to prevent all dental emergencies. However, you'd be surprised at how much you can lower your risk for unplanned dental visits by following these three basic rules:
Wear a mouthguard when playing sports.
Don't your teeth to open packages or bottles.
Avoid chewing ice, popcorn kernels and hard candy.
At Riverwood Dental, we are proud to be your trusted emergency dentist in Atlanta. We offer full-service dentistry for all ages, which means we are confidently equipped to bring you out of pain and restore your smile after sudden dental trauma. Don't ignore your dental pain – call our office today!