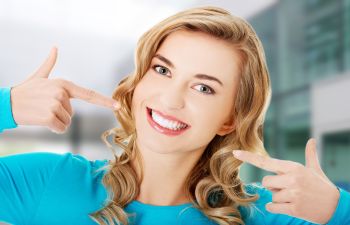 A white smile portrays health, youth and beauty. Unfortunately, white teeth don't always occur naturally. Whether it is a love for coffee, a smoking habit or the natural aging process, teeth can dull or yellow over time. Therefore, it comes to no surprise that teeth whitening is the most sought-after cosmetic dental treatment.
Finding a teeth whitening treatment is not very difficult. Countless whitening products fill the shelves at any local pharmacy or grocery store. Today, patients have the option of choosing kits, strips, pastes and even gum that claims to erase teeth stains. But do these products really work? And are they really cost-effective in the long-run?
Here's some key reasons to consider professional teeth whitening from your dentist instead of DIY whitening kits or over-the-counter products.
#1 More Effective
First and foremost, professional whitening systems utilize gels and products that are more powerful and more concentrated. Medical-grade solutions produce more effective results in terms of lightening the teeth and erasing stubborn stains.
#2 Customized for Your Unique Smile
Products you buy at the drugstore to whiten your teeth are one-size-fits all. Unfortunately, no two smiles are alike. To get the best results, you should consider professional whitening that uses custom-fabricated trays to fit over each crevice and groove of your smile. Custom whitening can produce more even and natural-looking results.
#3 Safer on Teeth and Gums
Many teeth whitening products can produce sensitivity along the teeth and gums as a side effect. When overseen by a dentist, however, side effects can be drastically minimized. Your dentist has your oral health and comfort as a top priority.
#4 Budget Friendly
While the upfront cost of professional whitening versus a store-bought whitening kit can seem a lot more, it is important to consider the long-term expense of each. Over-the-counter whitening products typically need to be used frequently and repurchased several times to attain satisfactory results. This repeated cost can quickly add up and even outweigh the one-time price of a longer-lasting professional whitening treatment with your dentist.
Learn about KöR Bleaching
At Riverwood Dental, we proudly offer the KöR bleaching system. KöR is also the kindest on the teeth and gums to reduce sensitivity, and it is manufactured and delivered in a way that preserves the high concentration of bleaching gel. KöR involves two weeks of overnight whitening at home using precise, custom-fit trays. This can be combined with an intensive treatment session at our office to boost your final results. Call today to schedule your visit for a whiter smile!